This site is reader supported and contains links to affiliates, who at no cost to you, I may earn a commission from if you purchase something. Disclaimers.

While not a surprise, when you drill holes in cabinets you can't undo the hole. Which makes your cabinet knob placement decisions very important. Trying to figure out where to put your knobs? Or, wondering how to drill holes in cabinets? We'll cover both topics in this article.
First, spending time and effort on where to place your cabinet hardware is important.
But how you drill the holes is just as important – and why I use a cabinet hardware jig like this Tourace Jig to avoid mis-aligned or crooked hardware.
So, to help your placement this guide will cover:
Where to consider placing knobs
How to test placement without drilling a hole
Cabinet knob placement tools that will help put the knob hole where you want it
Tips and tricks I've gained over decades of cabinet installation
Lastly, we'll wrap up with three things I just don't recommend anyone do when installing your own cabinet hardware.
Cabinet Knob Placement Tools
Choosing where on the drawer or door the cabinet will go is important.
But without the right tools to install the knobs you'll run into issues with:
Knobs on adjacent doors drilled at different heights
Drawer knobs not vertically aligned on stacks of drawers
Drill bits "wandering" when they start drilling 
The solution? Using a cabinet knob placement tool:
| Name | Rating | Features | Shop |
| --- | --- | --- | --- |
| True Position TP-1934 | 5.0 | Accurate, all metal construction perfect for large DIY kitchen projects. | Check Price |
| True Position TP-1935 | 4.8 | All the features of the TP-1934 plus a 38″ bar for long handled cabinet hardware | Check Price |
| Tourace | 4.4 | Best DIY cabinet hardware jig for small projects with a few handles. | Check Price |
| Kreg KHI-Pull | 4.1 | Quality jig great for small projects. | Check Price |
Cabinet Knob Placement Steps
These are the basic steps to placing your cabinet knobs correctly:
Complete installation of the cabinets
Align all doors and drawers
Use a putty like this Loctite Fun-tak* to temporarily hold a knob in place
Sample different locations on doors and drawers and find your visual preference
Use a cabinet hardware jig set to desired location
Drill holes with a pilot point bit and backer board to prevent "blowing out" the inside of door
Make sure you have the right drawer screws. I always have these 1-5/8″ drawer screws* on hand – the supplied screws are usually too short.
Install knobs with a screwdriver or cordless drill with the clutch set to a low trigger
For Doors: Cabinet Knob Placement Options
Let's start with door knob placement. Generally, doors and drawers can be considered separately when laying out the knob location. There are a few considerations and placement options that we'll review for cabinet knob placement:
Location on the door rail or stile
Upper cabinet placement for ease of use (height)
Hinge location – especially for end cabinet doors
But first let's understand a little about door construction.
Explaining Door "Stiles and Rails"
I'll refer to stiles and rails a few times so it's best to start with a picture. As shown above, rails and stiles make up the outside frame of most cabinet doors and are integral to the construction of the door. As you can see the rails are horizontal at the top, bottom and sometimes middle of the door. Stiles are vertical and can be remembered as "stiles stand".
The classic knob placement centers the knob on the stile and lines the knob stile height with the inside edge of the rail.  Or in other words, the knob is placed about 2-1/2″ from the bottom of upper cabinet doors or 2-1/2″ from the top of a bottom cabinet door. 
As you can see this arrangement allows for a visual balance as the knob is centered on the horizontal edge of the rail. And because of this I've installed 99% of knobs in this fashion.
Tip: Why do I prefer to install the knobs with the doors mounted on the cabinets? As you can see from the diagram the upper and lower rail is needed to place the hole. So attempting cabinet knob placement and hole drilling with the doors off introduces opportunity for error such as mistaking an upper door for a lower cabinet door.
Non-Traditional Knob Placement
There are two other options for placing knobs. First the knob can be centered both ways on the stile and rail. While second the knob can be placed in the center of the door stile.
There is no right or wrong answer if you getting creative. However, usability must be kept in mind and one example is center knob placement for pantries, as in the diagram below.
Bottom Cabinet Pull-out Doors
One last variation to consider are base cabinets that have a pull-out door front. And for these I recommend looking at a knob design that incorporates a handle for ease of use. Just install this handle horizontally on the upper rail, centered left-to-right and in the center of the rail (remember stiles stand!).
So what if I don't have traditional rail and stile construction? Well, you can repeat the visual placement of the traditional door.
As you can see you can see the traditional placement will work – or you can vary placement and choose a symmetric approach where the "up and in" measurements are the same. In either case, I'd recommend using a cheap putty like this Loctite Fun-Tak available on Amazon to temporarily hold a few knobs in place. And make sure you put a soft pad below the putty to catch the knob n case it slips off.
Outside or Inside Edge of Door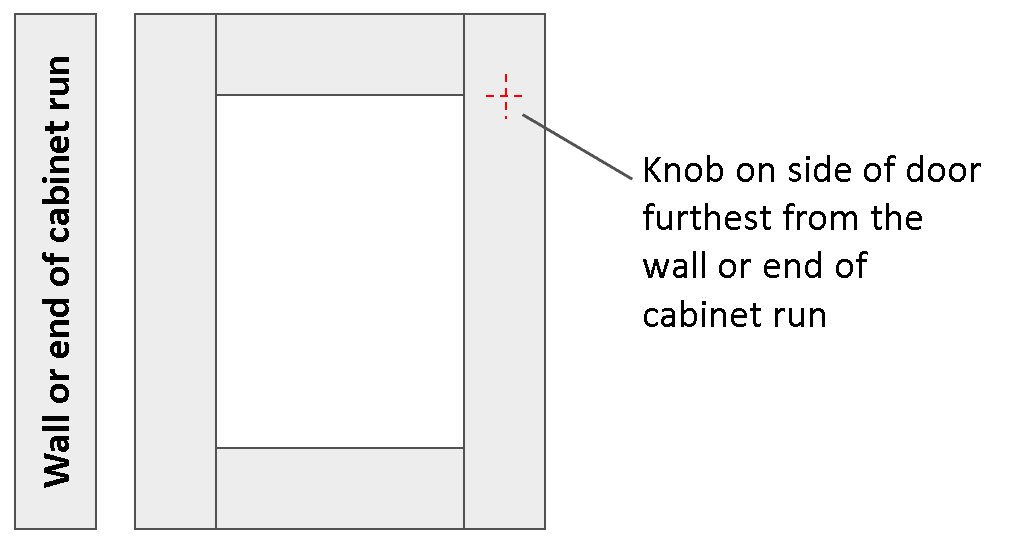 For usability of the door, and this may mean changing the "swing", you'll want to consider end cabinets carefully. By this I mean how will the door operate? For example, with an end cabinet you won't want to walk "around" the door swing to access it's contents.
It's common, then, to have the hinges on the side closest to a wall or open end of the cabinet.
Double checking this is important with cabinet knob placement as you'll be deciding the door swing permanently once the knob hole is drilled.
Drawers have a couple of considerations that doors don't:
Centered left to right and top to bottom, one knob or two knobs
Handles or Knobs
Bottom drawer placement in a "drawer stack"
Cabinet knob placement for solid drawer front, under 24" wide
This is the simplest and most common configuration. Because most drawer fronts are under 24″ wide simply installing the knob centered both vertically and horizontally is common.
Framed Drawer Front, Under 24"
Depending on the construction of the door there are two options here:
Centering on the drawer vertically
Installed in the upper rail
If you choose to install in the upper rail keep in mind how the countertop overhang may impede use of the knob. Due to this it could be best to wait until the counters are installed.
Cabinet knob placement for a solid drawer front over 24" wide

The only change here is considering two knobs may be necessary to support even weight distribution as the drawer is extended. To help with even drawer action, when a drawer is over 24″ two knobs are generally used and spaced out in 1/3rds.
To do this simply measure the drawer front, divide by 3 and from the left and right put knobs at that distance. For example, a 27″ drawer front would be 27/3 = 9″.  Then just place the knobs at 9″ in from the left and right.
Lastly, visual preference comes into play here. Due to this it is acceptable to spread the knobs out a little further to the edge of the drawers. Again, try the putty method and see what you like before committing with drilled holes.
Framed Drawer Front, Over 24"
You can take exactly the same approach as with a solid front. However, consider using the top rail where you have room under the countertop and/or it is visually appealing to you or the homeowner.

How to Avoid Damaging Your Kitchen
It goes without saying that your kitchen is expensive. But when you look at the cost of replacing a door or drawer front because of a bad knob placement it isn't cheap. And if you are remodeling older cabinets finding a replacement door or drawer may not even be feasible.
So how do you avoid putting a hole in the wrong place?
Measure three times. Just because you use a jig or other method doesn't mean it is right.
Always drill knob holes with the doors and drawers installed. By doing this you will avoid an upper cabinet door having a knob drilled for a lower cabinet door. Or other disasters.
Use a backing board when drilling holes to avoid "blowing out" the wood on the back side of the door or drawer. Or worse, drilling into your finger (hey, after drilling thousands of knobs I've done that…).
 Have the knobs in hand. Due to variation in knob appearances don't even think about drilling holes until you have at least one knob available.
Cabinet Knob Placement Jigs and Supplies
After deciding knob location you'll need a few tools. And not just any tool, there are custom tools to help make the installation easier.
#1 - Door and Drawer Cabinet Knob Placement Jig
A cabinet hardware jig will allow you to quickly and accurately drill holes in dozens of drawers and doors. And in just minutes.
These jigs are a lifesaver for time and quality as you'll have a tool to set repeatable knob position. And they are also available in prices from about $30 for an economy jig up to almost $300 for professional jigs.
Don't think you need one? Go count how many doors and drawers you have and then think about manually measuring each knob location with a combination square and sharp pencil. And then think about the opportunity to read a tape wrong and drill a hole in the wrong spot.
#2 - Bradpoint Drill Bits
DEWALT Drill Bit Set, Brad Point, 6-Piece (DW1720),Black
Bradpoint drill bits make sure the bit goes into the exact spot you intend. And not all drill bits can do that. Because you'll need these for both the cabinet installation and the cabinet knobs and handles I like to have a set on hand. 
Four Things NOT to Do When Installing Cabinet Hardware
As promised, here are three common errors you can make when installing your cabinet hardware:
Mistake #1: Rush your hardware installation. If you've just installed your cabinets, don't rush into the hardware the same day as the installation. While you have a week or two until the counters are installed test out your handles and hardware, and see what and where you like.
Mistake #2: Freehand your holes. Haven't drilled a lot of holes in wood? Well, you'd be surprised that wood grain will lift your drill bit sideways and make for a mis-placed hole. Use an inexpensive cabinet hardware jig instead.
Mistake #3: Drill all the holes, then test out a knob. Like sawing, measure twice, drill once and install a test knob. Then, make sure you like it and keep going.
Mistake #4: Splintering your cabinets. Look, wood is made of fibers. And when a drill bit forces through them and finds a soft spot on the inside of the door it makes a splinter. How to avoid this? Using a backing block on the inside of the door and drill slowly.
Hopefully this article was useful in understanding your options for cabinet knob placement and how you can best install them. For more helpful DIY articles be sure to subscribe below.
Cabinet Installation Series
Installing cabinets is a journey.  Follow our 3 part series for more guides, tools and techniques to complete your project: