If you buy something through our links, this site might earn an affiliate commission. 
It's easy to find cabinet screws but hard to find the right ones. Maybe you're installing drawer slides or hinges? Or perhaps you have a cabinet installation coming up and are looking for the right length screw? Learn what the best cabinet screws for your project are in this guide.
While seemingly simple, having the right screws around for cabinet projects makes a BIG difference in the finished quality of your project.
In this article learn what the best screws are for:
Installing cabinet drawer slides and hinges
Cabinet installation – both to the wall and cabinet to cabinet screws
Cabinet construction
And while cabinet screws seem the same we'll also touch on the difference in screw thread design and what the best cabinet driver heads are.
Top Picks:
Cabinet Installation Screws
I'll admit that screws can be an afterthought when it comes to the excitement of installing cabinets. While other cabinet installation tools may take priority, when it comes to an installation the entire process is really about … the screws.
After all, when the installation is done what's holding hundreds of pounds of cabinet and contents to the wall?
Since the construction of your cabinets will dictate some of your choice in screws, let's take a look at each screw based on purpose. And then how variations in construction will impact the choice in screws.
CABINET-TO-WALL CABINET SCREWS
Last update on 2020-10-26 at 22:03 / Affiliate links / Images from Amazon Product Advertising API
Nothing surprising here. 
The first screw you'll need is one that will hold the weight of the cabinet (and it's contents) against the wall. 
And, since you'll get one shot at this you'll want to consider:
Thickness of the cabinet back, wall surface thickness (plaster/lathe, drywall, etc) and then stud thickness
Metal vs. wood studs
And, quantity of screws at ~ 4 screws per lineal foot of cabinets. 
If you haven't installed cabinets before, most cabinets are screwed through the back of the cabinet, into the drywall and then to the wood stud. Typically a 2-1/2″ screw is the minimum, but be sure to check your wall construction and cabinet requirements. 
Key features of the GRK screw:
Specialized threads for self-tapping
Torx head that firmly grasps your bit
Thin shaft for driving through hard materials
Large, flat head for grabbing power when set
Available in common cabinet installation lengths from 2-1/2″ up to 3-1/2″ (and longer)

Colors:

 White, Bronze and Stainless
Cabinet to cabinet screws for lateral connections
If your installation involves upper cabinets, and you haven't installed upper cabinets before, you might be surprised to quickly learn you'll need to connect the cabinets together first. And then screw the cabinet to the wall.
Why do you connect cabinets together first? 
It's about the quality of the final fit and finish: you want the face frames or frameless fronts to meet precisely together. And since you can't shim the finished fronts, you'll use shims to adjust against the wall. 
Since using the same screws in all visible areas is best, for most cabinets use a shorter version of the GRK cabinet screw. And, I prefer to have a variety of 1″, 1-1/4″ and 1-1/2″ of these screws on hand to account for variations in cabinet side thicknesses and gaps between face frames. 
Besides, anyone serious about DIY projects will use these again later. So I don't worry about over-buying on screws.
Best Cabinet to Cabinet Screws
Last update on 2020-10-27 at 00:03 / Affiliate links / Images from Amazon Product Advertising API
Highlights:
Same design as the cabinet screws for attaching cabinets to the wall
Available in common cabinet installation lengths from 1″ to 2″

Colors:

 White, Bronze and Stainless
For connecting the cabinet sides using the same GRK screw as for the wall allow you to match the heads.
To wrap up, a couple of tips and tricks when it comes to installing these screws:
A cabinet claw is a time saver for face frame cabinets to secure frames, drill pilot holes and keep the face frame flush.
And, a cabinet jack is a one-person cabinet installers friend in holding upper cabinets in place while cabinet screws are installed.
Get Free Quotes for a Kitchen Design or Remodel from Home Advisor
Cabinet screws to connect face frames
While securing cabinets through the sides works (especially in the back), a better way to secure face frame cabinets is through the frame itself.
And that's where a face frame cabinet screw comes into play. As mentioned in the cabinet to cabinet screws, you'll want to use a cabinet claw for these screws. 
And as a bonus they also work great for installing filler strips. 
Face Frame Cabinet Screws
Last update on 2020-10-27 at 00:03 / Affiliate links / Images from Amazon Product Advertising API
Thin shaft with aggressive threads to connect cabinet sides together during installation
Self tapping "w-thread" design
Colors: White, Bronze and Stainless
Connecting frameless cabinet sides with a post screw
A post screw will connect cabinet sides using a two part screw.
Rather than a single screw with threads that lock into the melamine side, a post screw is installed through a shelf pin hole:
The first half of the screw (the "female" post side) is longer and connects through both pieces of the cabinet side in the shelf pin hole.
Then, the male side inserts into the post and is simply tightened. But for optimal holding power a dab of Loctite  will secure the screw from accidental displacement.
These screws are great to avoid stripping screws in MDF and are nearly invisible after the installation. 
Concerned you'll lose a shelf pin hole on the top or bottom? Then simply line-up these screws and drill a hole just above and below. And as a bonus you won't have to worry the pins were perfectly aligned.
Installs through a small hole between frameless cabinet sides – or through existing shelf pin holes
Secure hold between cabinets
Part 2 - Cabinet Hardware Screws
It's surprising to some that you'd even need to consider this type of screw.
After all, the cabinet hardware you just purchased should have came with the right screws. Right?
Unfortunately, I've had bad luck with being able to use all the screws (both wood and machine screws) that come with cabinet hardware.
Stock up on machine screws for drawers
After the cabinets are screwed to the wall you'll likely end up drilling cabinet knob hardware and installing knobs and handles.
And guess what?
There are specific screws for this job as well. After hacking and cutting many machine screws I've learned to always have a box or two of 8-32 x 1-1/4 inch and 8-32 x 1-5/8  machine screws in your toolbox.  
Why? Because most custom cabinet fronts are 3/4″, drawer sides are 5/8″ and knobs needing about 1/4″  of screw length a 1-5/8″ machine screw can make the installation smoother. And hardware manufacturers just don't supply what you'll need.
Installing drawer slides requires buying your own cabinet screw
Installing drawers requires a mix of skill and the right Rok #8 screws
In fact, as I found in our guide to the best soft close drawer slides, beyond inadequate drawer slide screws some manufacturers just plain send the wrong screws. 
Lastly, for face frame cabinets you will almost certainly need screws in the frame. And almost all hardwoods will require a pilot hole, best done with a self centering pilot hole bit, to avoid splitting the wood (or worse – breaking the screw). But for the record, I rarely drill pilot holes in softwoods. 
Part 3 - Cabinet Assembly Screws
While most traditional plywood and face frame constructed cabinets are glued and nailed there are uses for cabinet screws in construction. 
Cabinet screws to join melamine and particle board
If you've ever assembled IKEA furniture you'll know what this is about. And, personally, I think their systems for connecting furniture and cabinets is ingenious.
But I still prefer to build plywood cabinets.
So how do you join melamine (aka particleboard) at right angles? With a confirmat head screw, as pictured below:
What is a confirmat screw? A confirmat screw is a special cabinet screw that leverages a large thread design suited to particleboard cores and a recessed flat head that can be concealed.
However, to use this type of screw you'll need to invest in a specialty confirmat countersink .
Frequently Asked Questions for Cabinet Screws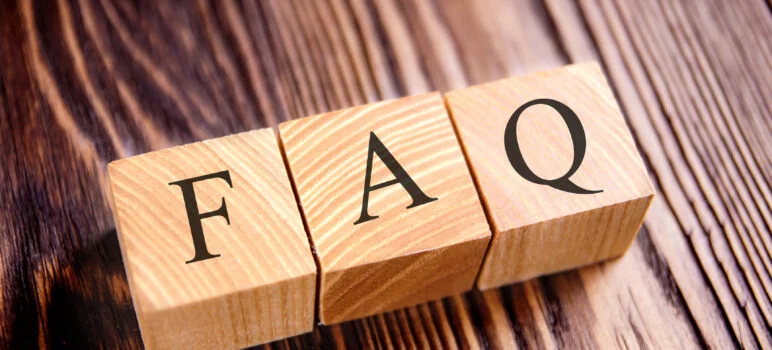 How long are screws to attach cabinets to the wall?
While wall construction determines the length most screws are a minimum of 2-1/2″ up to 3-1/2″.
What screws are used to connect cabinets together?
There are three types of screws for connecting cabinets together. Face frame cabinets utilize trim-head screws drilled through the frames. While frameless cabinets use either shorter screws or Chicago bolts to connect the cabinet.
How many screws do I need to install cabinets?
For wall screws plan for 4 wall screws per foot of cabinet and then four screws per cabinet box for connecting cabinets together.
So I promised three screws you should avoid.
And here they are:
Drywall screws are NOT to be used for installing cabinets. Please, just don't do it.
Drawer manufacturer screws shouldn't be counted on – instead buy an appropriate length Rok #8 screw used. And to be clear, I'll only use manufacturer screws in face frame connection points. Otherwise, what they send just won't hold up to years of weight and slamming.
Deck/outdoor screws (see #1)
Hopefully this article was helpful in understanding the subtle differences in screws you'll need while building and installing cabinets. While not the most exciting purchase, a good assortment of cabinet screws will make an installation go smoother.
And prevent need for future adjustments caused by the wrong screw.
Cabinet Installation Series
Installing cabinets is a journey.  Follow our 3 part series for more guides, tools and techniques to complete your project: