A high quality laminate roller will make building counters, veneering wood and installing flooring a much easier job. And ensure a higher quality result as bubbles and adhesion issues will be minimized.
When I first started building cabinets (decades ago) we made 90% of our counters from laminate. And while it might seem like a daunting project it's actually relatively easy. With a table saw, edge trimmer, sander, paint brush,  and a laminate j roller you'll be able to make a complete counter in hours. 
And for flooring jobs a larger laminate roller  will speed up the installation and help prevent future issues with bubbling and bonding.
Finally, the picture above is a 5′ laminate counter I made in late 2019 for relatives using a J-roller I've had a long, long time. And in all my time making counters with a J-roller I've only had adhesion issues with a poor performing water-based contact cement.
I've spent hours rolling laminate sheets to ensure solid adhesive connection between the laminate sheet and MDF subsurface. And while there are a lot of laminate rollers on the market, my preferred J-Roller is a simple design with a comfortable and long handle.
1. Best Laminate Roller - Powertec 71011
POWERTEC 71011 Curved Handle J-Roller w/Hard…
Specially designed for applying pressure on wood and plastic laminates
Curved handle for additional pressure
Features super-comfortable grips in two different styles
Provides optimum glue contact
Last update on 2022-09-25 at 05:08 / Images from Amazon
Specially designed for applying pressure on wood and plastic laminates

Curved handle for additional pressure

Features super-comfortable grips in two different styles

Provides optimum glue contact

Measures 1-1/2-Inch diameter by 3-Inch wide by 14-Inch long
2. Fulton Tools Floor Laminate Roller
Extendable Heavy Duty Floor and Wall Roller for…
The Extendable Heavy Duty Segmented Roller provides excellent leverage…
The heavy duty cast leverage handle allows you lean into to apply as much…
The extendable handle has a black, rubber handle bar style grip for…
We designed the 3 rollers to be set in a segmented fashion so the pressure…
Last update on 2022-09-25 at 06:33 / Images from Amazon
The Extendable Heavy Duty Segmented Roller provides excellent leverage while applying pressure to linoleum, carpets, tile, wall coverings, laminates, large veneer projects and more.

The heavy duty die cast leverage handle allows you lean into to apply as much pressure as needed and will take virtually all of your weight behind it.
How to Use a Laminate Roller
If you haven't applied a laminate or veneer before you might be wondering why it's needed. So let's consider three ways a laminate roller ensures a tight seal on your project.
Bubbles are a laminates #1 enemy
The #1 issue with any laminate installation is a bubble. In fact, this issue is so damaging to a project that it will require (in most cases) a complete rebuild of the project.
Why's that? Well, contact adhesive does its job very well. So well that once two pieces are connected they do not come back apart. 
Six simple steps for using a laminate roller for counters
How can a laminate roller help? Here's how I apply laminate with one:
Use clean, dust free sticks 8-12″ apart to separate your subsurface and laminate.
Once the laminate is aligned, start removing sticks and firmly press the laminate down (I use my hand here).
Once you have a 2-3′ surface down use the j roller to work towards your sticks (keeping a good 10-12″ away to avoid breaking the laminate).
Keep repeating this process until all sticks are removed.
Once all the sticks are removed start using the laminate roller from the center of the surface and roll to the edges. Do this 2-3 times over the entire surface with careful attention to the edges
Trim the excess laminate with a laminate edge trimmer
Re-roll the edges firmly with the laminate trimmer
Use a bright light to find bubbles fast
When you think you're done then it's time to inspect. 
To quality check your finished project use a bright light and close inspection of the project to find bubbles. Due to varying angles showing different flaws I like to look at the surface at all angles.
Find a bubble? Immediately start working directly over it with the roller.
Laminate Roller Buying Guide
While there's not a lot of variation in these models there are a few considerations when shopping for a roller.
High pressure tools require a good handle
A laminate roller is used because of the narrow contact surface it creates with the laminate, adhesive and subsurface. Because of this it can generate 35 to 50 PSI to force a solid seal.
But this also requires a sturdy, comfortable handle on the laminate roller. So look for a handle with a wide, large grip that will provide comfort and encourage application of force on the largest of jobs.
A j-roller gets it's name from the J shape of the handle. Wonder why a J shape? it forces the pressure over the center of the handle and thus the roller.
Looking at roller size and material
Matching the size of the roller to the job is important. And since these rollers work by applying force you'll want to remember that a large laminate roller built for flooring applications will not work for smaller jobs.
Roller considerations:
A 3-4″ wide roller is just fine for counters and veneers.
The roller should be non-mar to prevent marking delicate surfaces
Rollers are typically small in diameter to provide maximum pressure (1-1/2″ is common)
J Rollers for counter laminates
A laminate counter roller is typically hand held and has one roller with a handle up to 14″ long. However, if your job requires larger counters and bigger jobs then a 2 or 3 wheeled roller with a larger handle is a good option. 
But remember that caution is required to not break off the corners of laminate as you're rolling. And the larger the roller the greater the chance of an accidental break.
Large area laminate rollers for flooring, carpet and veeners
For flooring and large surfaces you'll want to use a multi-wheeled roller with a large D-handle to support higher pressure over a larger contact surface. 
Considerations:
Look for an extendable handle with a secure lock
Rollers shouldn't be larger in diameter, but they should be non-mar and roll smoothly
Frequently Asked Questions for Laminate Rollers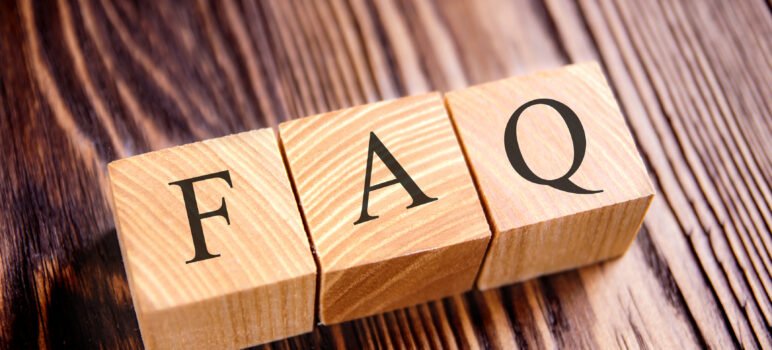 What is a laminate roller?
A laminate roller is used to roll laminates flat against a subsurface treated with an adhesive. Laminate rollers are commonly used in building counters (eg. Formica), rolling linoleum, adhesive tiles and veneers.
What is a J-roller?
A J-roller is a hand held laminate roller with a "J" shaped handle that allows for maximum force to be evenly applied during rolling.
How do you use a laminate roller?
A laminate roller is used immediately after a laminate or veneer is applied to the subsurface. First, start in the middle of the piece and work outwards in all directions to remove air pockets and bubbles. Then re-work the entire surface 2-3 times to ensure a tight bond.
While not the most exciting tool, a high quality laminate roller will help prevent issues with your projects. Since contact adhesives cannot be removed once two surfaces are matched there just isn't a good alternative to a J-roller or laminate roller to remove bubbles and ensure proper adhesion.