Not everyone is a cabinet maker and knows what a cabinet door stopper is. So if you're here looking for a way to make cabinet doors open partially or close slowly then you are in the right place. Or maybe both…

With that in mind, if a cabinet door stopper means you want to either LIMIT how far a door opens or you want it to CLOSE smoother (like soft closing).
So, with that in mind, in this article we'll review both options and the best products on the market for your job.
Top Picks:
Best Cabinet Door Stoppers
Based on my experience, here's my list of the best cabinet door stopper:
1. Blum Cabinet Door Stopper (Editor's Choice)
Last update on 2021-07-22 at 07:27 / Affiliate links / Images from Amazon Product Advertising API
The Blum cabinet door damper is a single-screw, easy to mount damper for frameless and face frame cabinet doors.
I prefer this stopper because:
Narrow front profile that makes it disappear in the cabinet
Universal for frameless or face frame cabinets
Simple adjustment of the damper with a screwdriver
Rounded edge that contacts the door
And after ten years use I haven't seen any marring on my cherry cabinets. In fact, I just recently added a few more of these on lower use cabinets.
Professional tip: Make sure you have a smaller cordless drill for installation. Due to the screw installing straight-in the clearance is tight for larger drills (I had to turn mine sideways).
2. Original Cabinet Door Restraint (Stainless Stopper)
Stainless Steel Cabinet Door Restraint Kit (Packs…
The Original Stainless Steel Cabinet Door Restraint. American Made. American Quality. Our restraints are made right here in the USA by skilled men and women using the highest quality materials. Our cabinet door restriction cable is made with flexible 304, 7×7 stainless steel wire rope for superior strength and unmatched, long-lasting, trouble-free operation. Please note our product is not designed for lifting.
Last update on 2021-07-21 at 20:51 / Affiliate links / Images from Amazon Product Advertising API
The Orginal Cabinet Door Restraint is an all-metal stainless steel restriction cable that prevents a door from opening past a certain point.
A restraint cable works by simply attaching to the cabinet box or frame and then the door. When the door reaches a certain point the cable prevents the door from opening further.
Key features to consider:
All metal components and no plastic.
Screws are included
Simple eyelet installation
6-9″ cable length
Professional tips: Find the approximate location of the restriction device first and try for an equal distance on the door and cabinet. Then install on the cabinet first, while finishing up with holding the door and cable exactly where you want for the final screw.
Oh, and use a small pilot bit for harder woods like maple and hickory.
3. Blum Cabinet Hinge Stopper for Doors
Blum 38C315B3 Blumotion 86 Degree Angle…
Blum 38C315B3. 1, Package of 20 Clips
Restrict opening to 86 Degrees
Insert/remove before or after installation
For use with Blumotion Compact hinges
Economical bulk package
Last update on 2021-07-22 at 03:44 / Affiliate links / Images from Amazon Product Advertising API
The Blum Hinge Restrictors work with all Blum compact hinges to restrict doors to 86-degrees opening.
If you have Blum hinges, something you can see on the hinge, then these restrictors are a perfect solution for doors that open back to back or against a wall.
Key features to consider:
Requires the Blum compact hinges.
Restricts the door from opening a full 90-degrees (plan for 78-86 degrees)
May work with other style hinges
4. Rok Door Damper (Economy)
Rok Hardware 25 Pack Soft Close Damper for Cabinet…
FUNCTION: Instantly allows cabinet doors to close smoothly and quietly. The Polished Nickel finish blends well with the hinge.
MUST HAVE: Works for face frame cabinets on all door overlays & frameless cabinets on full overlay doors.
Last update on 2021-07-21 at 19:32 / Affiliate links / Images from Amazon Product Advertising API
The Rok door stopper is also a single-screw design and features a built-in offset.
Key features:
Bright zinc finish
Economically priced
Fits frameless and face frame cabinets
Easy adjustment knob (excellent feature)
However, after purchasing these and finding they are made completely of plastic (aside from the adjustment screw) I cannot recommend them. Due to doors lasting decades an all plastic component just doesn't make sense.
How to Install a Cabinet Door Stopper
Tools needed:
Philips screwdriver
Cordless drill with a Philips driver
3/32″ drill bit
Steps to install a cabinet door stopper:
Place the door stopper in the upper corner of the door
For hardwood cabinets, use a 1/8″ or 3/32″ drill bit for a small pilot hole
Insert the screw
Close the door as a test
If the door closes too fast adjust the damper to have more resistance
If the door closes too slow set the damper to have less resistance
Note you'll only need one door stopper per door. So what could go wrong? Well, the biggest issue you'll face is breaking a screw off if you don't drill a pilot hole.
Frequently Asked Questions on Cabinet Door Dampers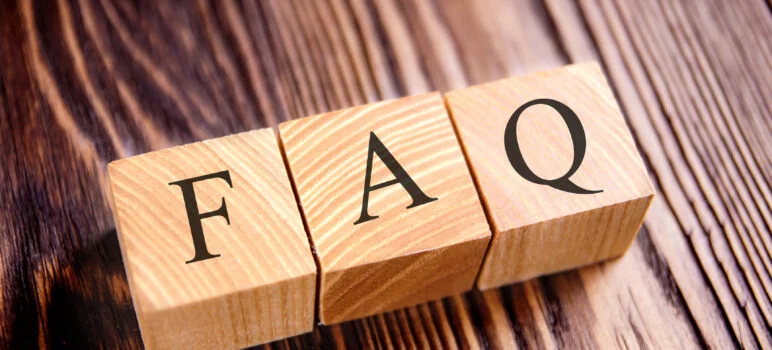 Door dampers work independent from the cabinet hinge and use a piston-like compression to slowly close the cabinet door. What's great about these?  Anyone can install them with a small bit and screwdriver.
How do dampers stop doors from slamming?
Dampers work much the same as a shock absorbers in a car.  They use an internal mechanism that slows the force with which a door can be closed.  Mechanisms vary by type of dampener and brand, but the effect on the door is that it's softly "caught" at a certain point and cannot be slammed shut.  
Who makes no slam cabinet door stoppers?
There are many suppliers of these.  Of these, Blum and Rok are two of the leaders.  A few integrate soft closing and magnetic latches, but look to the leaders for longest durability.  Most are $2-3 per door and bulk discounts are available if you order 10, 25 or more.  
How many door stoppers will I need per door?  Only one cabinet door stopper per door.  Only extremely heavy doors (50lbs+) will require a second damper.
Should I Upgrade My Hinges Instead?
I'd recommend installing a damper unless you have a design or visual reason to not add a third piece of hardware to each door.
How do hinges stop the door from slamming?
Similar to stand-alone dampers the hinges have an internal mechanism that controls the speed with which the door can be closed.  
As a bonus:  some hinges have an on/off switch that allows you to disable one hinge for smaller doors (or have both on for larger/heavier doors).  
Some European-style hinges may support an optional clip-top dampener to be installed with no drilling.
Who Makes No Slam Cabinet Hinges?
Like stand-alone dampers there are many, many makers of these hinges.  Look online or your local big-box store for suppliers.  Rockler is another great resource.
How many hinges will I need per door?  Typically two – or the same number of hinges you have on your existing cabinet doors.  If you are budget wary you may be able to test out using just one replacement hinge per door for smaller doors.  
Choosing Soft Close Dampers or Hinges
Choose Soft Close Hinges If:
You can find replacement hinges at a cost comparable to dampers.
Building new cabinets.  Start now with soft close hinges to avoid additional cost and another hardware component of a separate dampener. 
Choose Soft Close Dampers If:
Hinges are not an option.  Not all door hinge styles have cabinet door stoppers built in.
You want a budget friendly choice.  Adding on dampers is typically a few dollars less per door.  
You don't mind another piece of hardware.  Dampers are a relatively "invisible" component, but still add another piece of hardware to your cabinet interiors.
You want a simpler installation.  It's typically easier to install cabinet door dampers than measure your hinges and replace them.
Your existing door hinges support a "Clip Top" style of door damper to be added on.  This is the easiest solution!